Re'equil Ultra Matte Dry Touch Sunscreen Gel SPF 50 Review – Before i go into the sunscreen review, let me tell you something about silicones. Silicones are one of the commonly found ingredient in mattifying skin care products  while in cosmetics, it does help temporarily give a soft smoothening effect to the skin.
SILICONES GOOD OR BAD FOR SKIN?
Silicone based sunscreens are is not for everyone since silicones can cause skin irritations, acne and also, they are not eco-friendly. Just like plastic, silicones pollute the sea and take ages to decompose.
I used to like the way silicone sunscreens feels, soft and smooth BUT, once i reach the end of my second tube of the sunscreen, my skin start to get irritated, mildly itchy and textured hours after application.😥 So, in my personal experience, nothing good comes from using silicones on an everyday basis.
Double cleansing is a MUST when you are using water/sweat resistant sunscreens to deep cleanse your pores and prevent breakouts.
Let us move on to the Re'equil Ultra Matte Dry Touch Sunscreen Gel SPF 50 Review below.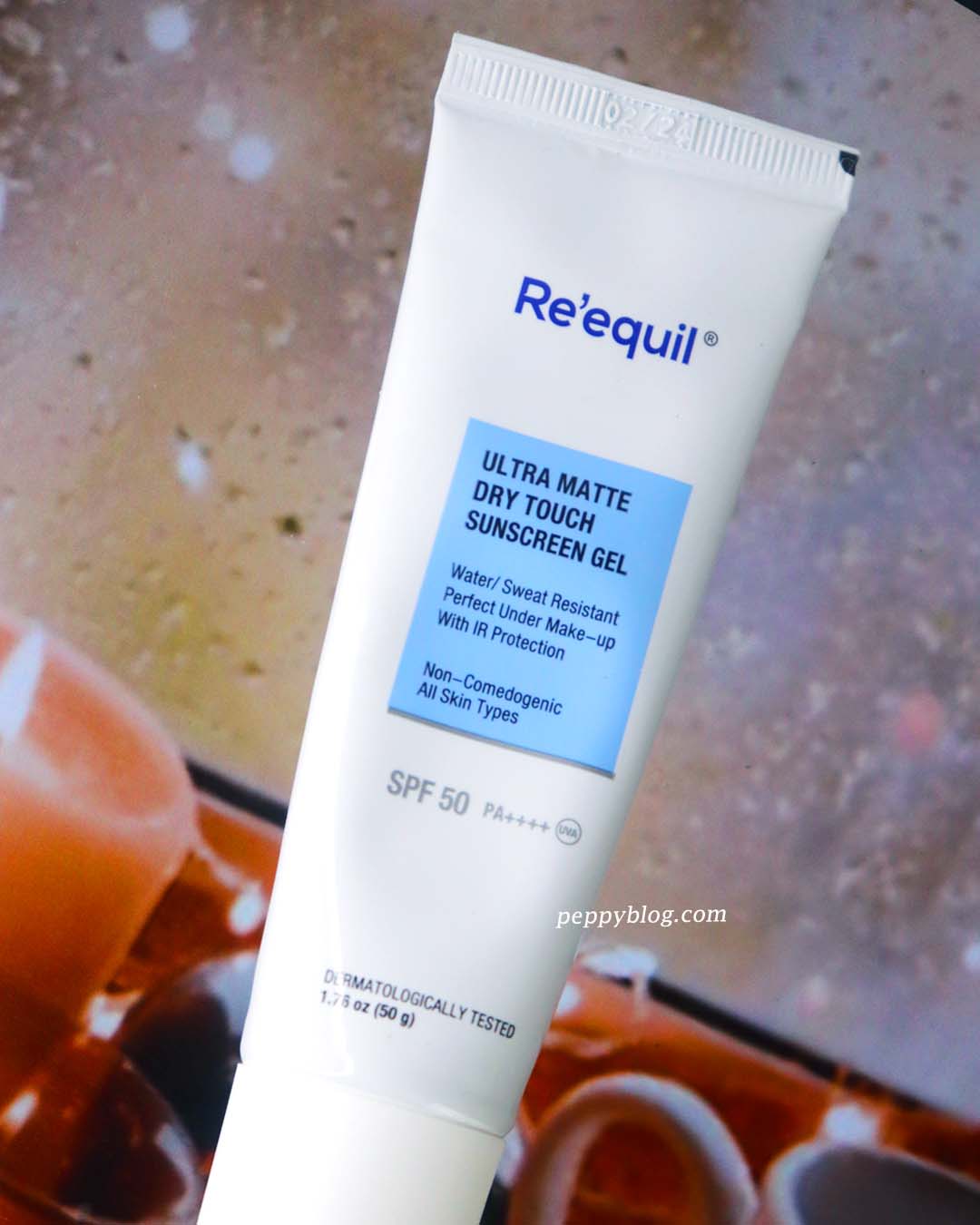 How to use
Apply 15-20 minutes prior to sun exposure. Re-apply as required.
PRODUCT DETAILS
Re'equil Ultra Matte Dry Touch Sunscreen Gel is a Sunscreen optimized for performance and Wear comfort. It has best in Class UVA (highest PA rating) protection that works as a screen and is a perfect anti-aging sun care solution.
SPF 50, PA +++++, Broad Spectrum
Water/ sweat resistant
Invitro tested for SPF and PA
Clinically tested by dermatologists
Ultra matte, velvety finish
Perfect under makeup
PRICE
50ml – 695rs
I got this on sale for 517rs.
Re'equil Ultra Matte Dry Touch Sunscreen Gel SPF 50 – BUY NOW
TEXTURE & CONSISTENCY
Re'equil sunscreen has a smooth velvety texture and smooth airy consistency
FRAGRANCE
It does smell like talcum powder which is not really pleasing to me. Its kind of manageable though.
MY EXPERIENCE
Skin Type – Normal Sensitive
I have been eyeing Re'equil sunscreen for quite a long time. To be honest, i was waiting and waiting for the brand to come up with a fragrance free version which obviously did not happen.
Anyways the re'equil sunscreen has a buttery velvety texture similar to UV Doux sunscreen and  Z-block sunscreen.
Re'equil sunscreen glides effortlessly and blends well too. It is light weight that is until you decide to apply the recommended amount which is, 3 fingers or 1/2 a teaspoon. when i apply 2 finger full of sunscreen, it feels heavy and uncomfortable on my skin. You can feel it sitting on top of the skin which is a very weird feeling as if my skin cannot breathe.
On my body, the finish is just perfect but on my face, it settles to a powdery matte finish which makes my skin look terrible. It just accentuates the skin texture and imperfections.
I think i might go back to my Minimalist sunscreen(Review Here), Qurez sunscreen(Review Here) or the Earth rhythm sunscreen(Review coming soon).
DOES YOUR SKIN TURN DULL & DARK WHEN USING A SUNSCREEN?🤔
This could be a reaction to Titanium dioxide. Try other sunscreens that suits your skin.
IS RE'EQUIL SUNSCREEN WATER RESISTANT?
Yes, like most silicones based products, re'equil too is water and sweat resistant BUT, it does not specify for how long though. My guess would be 80 minutes. So, reapply your sunscreen as often as needed in the hot summer season and after swimming to protect your skin.
PROS
Free from oxybenzone, benzophenone-3
Water/sweat resistant
Hybrid sunscreen with 6 UV filters – Spf 50 PA++++
Pleasant fragrance
Easy to spread and blend
Does not sting my eyes
Non oily and non sticky
Matte primer like finish
Zero white cast
Tones up the face a little
No irritation or breakouts on normal-sensitive skin
Can be layered with makeup
Travel friendly tube packaging
CONS
It contains artificial fragrance and too much silicones.
Impossible to apply the recommended amount(3 fingers full or half a teaspoon) without feeling cakey/suffocating/uncomfortable.
Not suitable for dry skin, and extremely sensitive skin
Powdery matte look may not suit everyone
REPURCHASE?
Personally i do not like artificial fragrance or silicones in my skin care products as these ingredients are not good for my sensitive skin in the long run.
That is it for today. You have come to the end of my Re'equil Ultra Matte Dry Touch Sunscreen Gel SPF 50 Review. Hope it was useful to you guys.
Thanks for reading and i will be back next week.
Good Day😇