Yao Rice Water Recipe | How To Make Rice Water At Home – Both Yao rice water and fermented rice water help repair and strengthen your hair cuticles leaving your hair soft and silky. They are loaded with nutrients that help promote new hair growth.
Rice water can be used by all hair types including colour treated hair.
PROTEIN OVERLOAD
If you have low porosity hair, instead of every 3 days, reduce the frequency of usage to once a week only. Also, you can dilute it with equal amount of water before each use if needed.
RICE WATER GROWNING MOLD😥
Keep the glass/ceramic/wood jar tightly closed and in a cool dark place far away from moisture. Keep it away from areas like the kitchen and bathroom where humidity is high.
Once every 3-4 days, open the jar to let air circulate. Even if you skip this step, the rice water will definitely ferment without fail. I have tried and tested it.
RICE WATER BENEFITS
Yao Rice Water is a natural hair care solution rich in vitamins, minerals, amino acids, and antioxidants. It nourishes and strengthens hair, making it smooth, shiny, and frizz free. It works as both shampoo and conditioner, cleansing the scalp and moisturizing the hair while eliminating issues like itching, dandruff, and mild scalp infections. Rice water also encourages hair growth, reduces hair loss, fortifies hair follicles, repairs dry hair, and enhances shine with a pleasant citrus scent. Yao Rice Water is all natural and free from negative side effects.
Below you can find,
Video tutorial with results
Frequently asked questions
Yao women hair care routine
How to make rice water (Original Yao Women Recipe)
Alternative ingredients you can use
How i use rice water
My six month experience and results
VIDEO INSTRUCTIONS
Scroll down for Photo Instructions and FAQ
YAO WOMEN HAIR CARE ROUTINE
Yao women have a hair care routine that involves using a hair mask with rice water and peels once a week. They leave it on for an hour before rinsing. They also use a natural hair cleanser with rice water, a natural cleanser, and pomelo or grapefruit peels every three days for 20 minutes. Yao women do not use any conditioner as part of their hair care routine.
YAO WOMEN HAIRCARE TIPS
📌 Yao women flip the head upside down while combing their hair.
Flipping your head upside down does improve the blood flow to your scalp. This means, More oxygen and nutrients reach the scalp which encourages hair growth.
📌 Yao women protect their hair from the wind.
Wind causes cause damage to the outer cuticle layer which leads to tangles and split ends. It also reduces the moisture level of your hair.
📌 Yao women always use cold water to wash their hair.
Cold water helps close the hair cuticles preventing build up(Dirt, pollutants) in the hair follicles. As cold water does not strip the natural oils, the hair and scalp stays moisturised. This helps in reducing frizz.
DIFFERENCE BETWEEN YAO RICE WATER & FERMENTED RICE WATER
1.To make Yao rice water you have to use white rice. While the fermented rice water recipe can be prepared with other types of rice like, black rice and wild rice.
2. Yao rice water does not stink at all. To be honest, it smells amazing even after a month. The fermented rice in water does stink a bit.
3. No need to refrigerate Yao rice water up to a month. But fermented rice water has to be refrigerated within 72 hours.
4. You do not have to dilute Yao rice water. But the fermented rice water has to be diluted in a 1:1 ratio to prevent protein overload.
5. While Yao rice water can be used every 3 days, it is advisable to use fermented rice water only once or twice a month.
INGREDIENTS
The only ingredients in Yao rice water recipe are White rice, Tea seed cake, And Pomelo peels. Each of these ingredients contribute to heathy hair in different ways.
📌 RICE WATER
Rice water is a powerhouse of essential nutrients including vitamins B and E, amino acids, minerals and antioxidants. The presence of inositol in rice water makes it a great ingredient for hair care as it helps in repairing cuticle damage by penetrating deep into the hair. As a result, hair becomes shiner and frizz-free.
Amino acids in rice water also play a vital role in promoting hair growth. With regular use, rice water can help make hair stronger, smoother, and shinier. Its healing properties also help soothe the scalp, reducing itching and other irritations.
📌 TEA SEED CAKE/POWDER
Tea seed cake is a by product of extracting oils from tea seeds, it is a rich source of protein that is beneficial for repairing and maintaining healthy hair. It has antimicrobial properties that prevent scalp infections such as seborrheic dermatitis and dandruff. Tea seed cake also promotes blood circulation, activating hair follicle growth.
The tea saponins present in tea seed cake cleanse the hair and scalp effectively without drying it out. The amino acids present in it, not only promote new hair growth but also moisturize, condition, and strengthen the hair strands. These amino acids also repair cuticle damage, which is the main reason for frizzy, dull hair. Tea seed cake not only makes your hair stronger and thicker but also soft and silky.
📌 POMELO PEELS
Pomelo peels are rich in antioxidants that help promote hair growth by stimulating the scalp and encouraging blood flow to the surface of the scalp. ?This ensures more oxygen and nutrients to the scalp.
The antiseptic, antiallergic and antifungal properties of the pomelo peels also treat mild dandruff and prevent scalp infections, soothe itchy irritated scalp and prevent bacterial growth. The Vitamin C present in the peels neutralize and protect hair from free radical damage and add an invisible coating to the hair to prevent further damage. The vitamins and minerals in pomelo peels help repair the outer cuticle layer of the hair by sealing it properly, adding shine and preventing frizz.
The Pomelo Rice Water is perfect for dull, dry, lifeless hair as it gets rid of product build up, cleanses the scalp of sweat, dirt, and clogged pores and prevents dandruff, itching and other scalp infections. It also helps in preventing thinning of hair.
ALTERNATIVE TO POMELO – GRAPEFRUIT PEELS
FAQ
Below are some of the most commonly asked questions regarding Yao rice water. I have tried to answer them to the best of my knowledge. If you cannot find your answer here, let me know in the comments section below.
WHAT DO YAO WOMEN USE FOR THEIR HAIR?
The women of the Huangluo Yao village rely on natural hair treatments to achieve their beautiful, healthy hair. One of their secret weapons is a hair serum made from boiled and fermented rice water. This natural hair cleanser and conditioner promotes hair growth and nourishes the scalp. This all natural hair treatment cleanses and conditions your hair, leaving it soft and frizz-free.
HOW LONG DO THE YAO WOMEN FERMENT RICE WATER?
Traditionally, the rice water is boiled with two other ingredients and fermented for about two weeks to one month.
HOW DOES YAO WOMEN USE RICE WATER?
Huangluo yao village hair serum can be used by itself as it works as an 'all in one' protein hair mask, cleanser, and conditioner. The fermented rice water act as hair conditioners smoothing and closing the cuticles. The closed hair cuticles reflect the light that falls on them making your hair look dark, lustrous and shiny.
You do not have to dilute Yao rice water, unless you have low porosity hair.
WHICH RICE DO YAO WOMEN USE?
White rice.
When you buy make sure the rice is organic and free from harmful pesticides. Basmati rice and rice that are grown in certain parts of the world like India, and Pakistan contain the least amount of pesticides and Arsenic in them.
HOW LONG DOES IT TAKE FOR RICE WATER TO GROW YOUR HAIR?
You should be able to see noticeable difference in your hair length and texture in about a month's time. I am not sure about how long it would take on damaged hair though.
Within that time frame, my hair quality improved even without using a chemical shampoo or conditioner. My scalp looked healthy and moisturised rather than dry and frizzy.
HOW OFTEN SHOULD YOU USE RICE WATER?
Yao women use fermented rice water every three days.
In winters, they use it once a week.
CAN WE ADD ESSENTIAL OILS TO RICE WATER?
Yes, you can add tea tree oil or even Pomelo essential oil to the original rice water recipe.
HOW ABOUT ADDING MORINGA POWDER OR HIBISCUS?
I often receive this question, but I have never personally modified the recipe. During my online research, I found an article suggesting that fermented moringa powder has more soluble proteins. You can also mix moringa powder directly with fermented rice water to create an instant hair mask. When experimenting with new ingredients, it is better to make a small test batch first. I still recommend sticking to the original Yao rice water recipe because it is a tried method for maintaining healthy hair.
HOW TO USE RICE WATER?
Shake the bottle before use
Pour the rice water all over your head and hair
Wait for 20 minutes
Massage for 2 minutes
Rinse with cold water
Repeat every 3 days
Yao women use cold water to wash their hair even in the cold winters.
YAO RICE WATER RECIPE
Rice water – 3 cups
Citrus peels – 1 pomelo fruit
Tea seed powder – 2 Tablespoon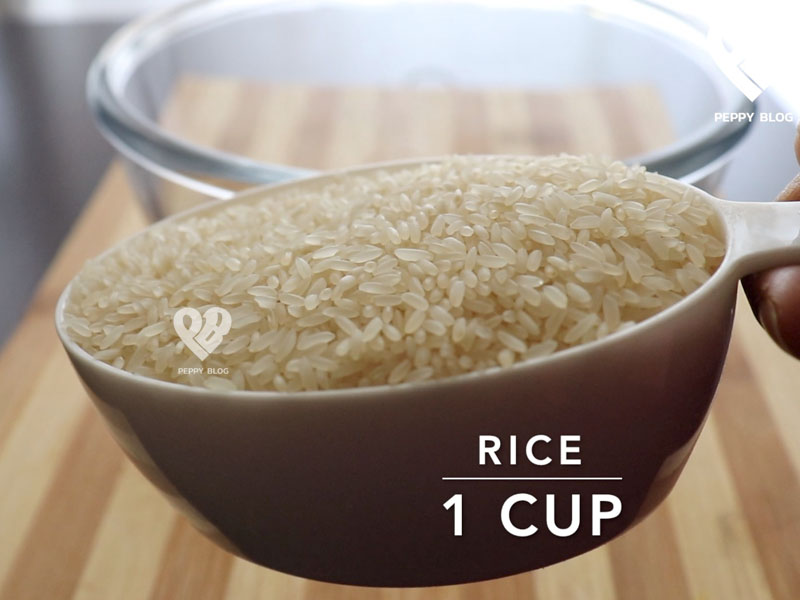 🌹RICE – 1 CUP
Take about a cup of organic white rice.
Rinse the rice to remove dirt and dust.
Throw out this water.
🌹WATER – 3 CUPS
Add 3 cups of water to the cleaned raw rice. Let it rest for 30 minutes.
30 minutes, later, rub the rice between your palms or fingers.
Continue to do until the water turns Milky White. This may take about 5 minutes.
Drain the rice water.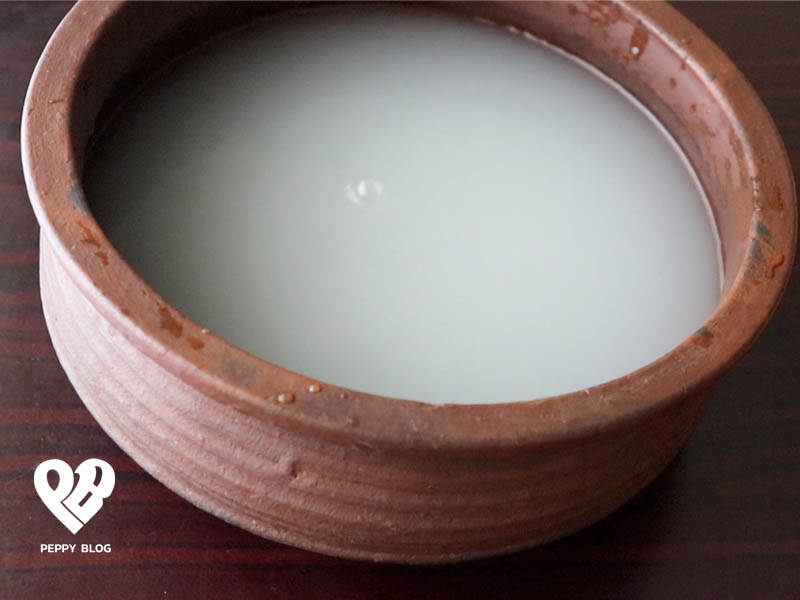 🌹POMELO PEELS
Today I have used sweet lemon peels of 2 whole lemons. You can use whichever is easily available to you. Yao women use Pomelo Fruit peels. (The closest thing to a pomelo fruit would be a Grapefruit)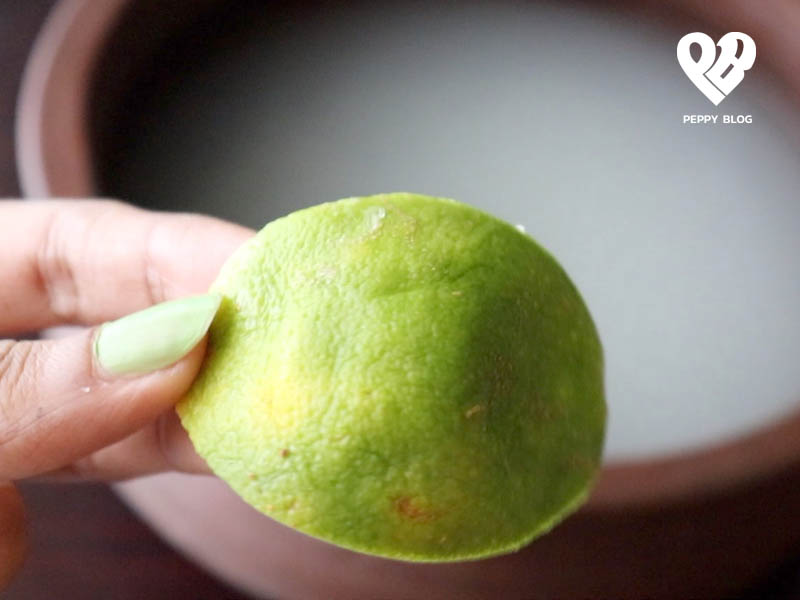 🌹TEA SEED POWDER/CAKE – 2-3 TABLESPOONS
You can boil it along with the pomelo peels or just add the powder after you switch off the gas stove.
Tea seeds powder does helps cleanse and moisturise the hair and scalp. It also promotes hair growth and combats dandruff and itching.
It is an amazing hair cleanser with many additional benefits.
TEA SEED POWDER ALTERNATIVES
Shikakai Powder
Soap nut Powder (Reetha)- Best for colour treated/Chemical treated hair
Shikakai and Aloe Vera Powder for extremely dry hair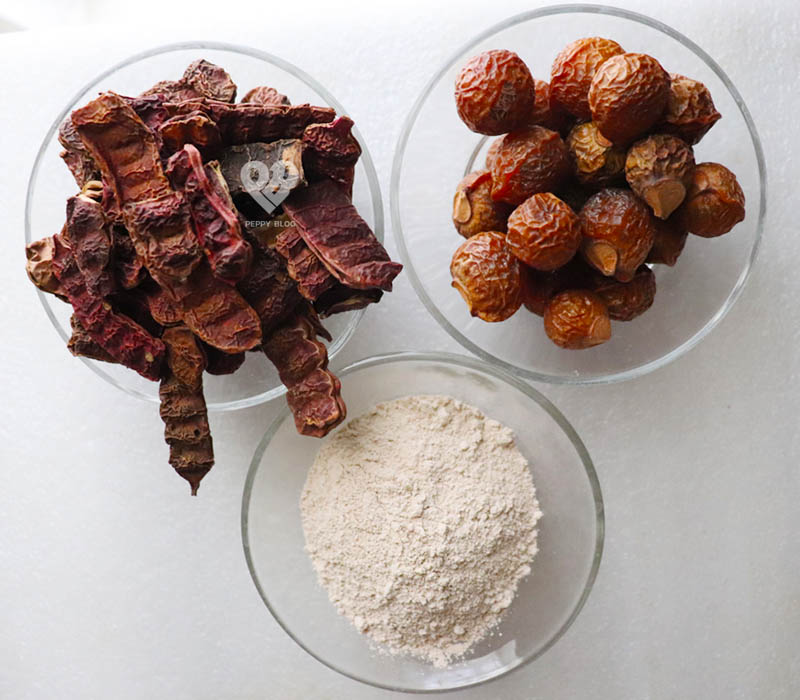 Boil the rice water for 5 minutes on medium flame.
Once the mixture cools down, transfer it to a clean glass jar.
In case you are using an air tight jar, make sure you open the lid every few days to let the air circulate. Why? Because oxygen is needed for fermentation.
Let the rice water ferment for 2 weeks to a month. You now have your own 2 in 1 shampoo and conditioner ready for use.
There you have it, the infamous Chinese Yao rice water recipe.
SHELF LIFE
Yao rice water stays fresh up to 2 month without refrigeration.
NOTE
I always rinse my hair with a Apple Cider Vinegar rinse to finish off.
Leave diluted ACV on your hair for 3 minutes and rinse off. This does help close the hair cuticles which leaves my hair soft, shiny and frizz free. ACV rinse also prevents mineral deposit/product build up.
You are free to use your favourite conditioner here.
MY EXPERIENCE
When I first started using rice water, I was going through a difficult time as I was experiencing significant hair loss due to H.Pylori-related anaemia. I was struggling to find a solution as none of the doctors could help me. I turned to the internet and self-diagnosed myself with H.Pylori, which was later confirmed through lab tests.
Using fermented rice water did not completely stop the hair fall, but it did help stimulate new hair growth. I noticed tiny flyaway hair even while experiencing hair loss. After two weeks of antibiotics and six months of using rice water, my hair thickness improved, My hair also became softer, blacker, and shinier, with fewer tangles. Using rice water also cooled down my hot head, a symptom my grandma used to tackle with oil baths. The rice water recipe has gradually improved the quality of my hair and I am extremely impressed with the results. I can see myself using rice water for a long time to come.
Try this recipe and let me know if you have any doubts. If you found this article useful, show me some love by clicking the below emoji's and Share your experience too as that really helps the community.