in tea seed Huangluo Yao is a village in china known for women with long and healthy hair. The Yao women cut their hair only once in their life time. Here is the original Yao rice water recipe for you guys.
You can see my rice water for natural hair six month results in the VIDEO At 7:56.
The photo that you can find at the end of this post was taken after using the fermented rice water recipe for four months.
Below you can find,
Video tutorial with results
Frequently asked questions
Yao women hair care routine
How to make rice water (Original/Real Yao Women Recipe)
Alternative ingredients you can use
Rice water benefits for hair
How i use rice water
My six month experience and results
VIDEO INSTRUCTIONS
Scroll down for Photo Instructions and FAQ
I already posted a Recipe For Fermented Rice Water last year. After using it for quite some time, I did brag about about how my hair got thicker over time.
Yao Women Hair Care Routine
They follow the below two recipes which are fermented for at least 2 weeks.
Hair mask with rice water and the peels. Use once week leaving it for an hour before rinsing it iff.
Natural Hair Cleanser with rice water, natural cleanser and pomelo/grape fruit peels. Use every three days.
Yao women do not use any kind of conditioner.
I have come to notice that the YAO women have certain habits that they have been following for generations.
Yao women flip the head upside down while combing their hair.
Flipping your head upside down does improve the blood flow to your scalp. This means, More oxygen and nutrients reach the scalp which encourages hair growth.
2. Yao women protect their hair from wind by going for a twist and tie hair style.
Wind causes cause damage to the outer cuticle layer which leads to tangles and split ends. It also reduces the moisture level of your hair.
What Is the Difference Between Yao Rice Water And Fermented Rice Water?
1.To make Yao rice water you have to use white rice.(Recipe 1 in the video) While the fermented rice water recipe can be prepared with other types of rice like, black rice and wild rice. (Recipe 2 in the video)
2. Yao rice water does not stink at all. To be honest, it smells amazing even after a month. The fermented rice in water does stink a bit.
3. No need to refrigerate Yao rice water up to a month. But fermented rice water has to be refrigerated within 72 hours.
4. You do not have to dilute Yao rice water. But the fermented rice water has to be diluted in a 1:1 ratio to prevent protein overload.
5. While Yao rice water can be used every 3 days, it is advisable to use fermented rice water only once or twice a month.
I did some research on Yao women and came to know that their rice water recipe was actually different from mine. And hence, i tried their recipe for almost six months now and guess what, it works even better than the stinky fermented rice water.
No need to shampoo afterwards too. And, my hair smells amazing.  Isn't that Great?
INGREDIENT BENEFITS
The main ingredients of Yao rice water are White rice, Tea seed cake, And Pomelo peels. Each of these ingredients contribute to heathy hair in different ways.
RICE WATER
Rice water contains vitamin B and vitamin E, amino acids and other minerals and antioxidants in it.
The ingredient inositol present in rice water has the ability to penetrate in to the hair and repair cuticle damage. This helps add shine and reduce frizz.
The amino acids in rice water help promote hair growth.
Using rice water helps make your hair stronger, smoother and shinier.
The healing properties of rice water help soothe the scalp in case of itching and other irritation.
BUT, those with low porosity hair may have trouble with protein build up. Just keep that in mind.
TEA SEED CAKE/POWDER
Tea seed cake is the meal left behind after extracting the oils from it. It is rich in protein which is highly beneficial for smooth, silky and healthy hair.
Tea seed cake has anti microbial properties and hence it prevents scalp infections like seborrheic dermatitis, dandruff and itching.
The tea saponins in tea seed help cleanse the hair and scalp properly without drying it out.
The amino acids help new hair growth and also moisturises, conditions, and strengthens the hair strands.
Amino acids also help repair cuticle damage which is the main reason for frizzy and lacklustre hair
Tea seed cake promotes blood circulation and activate follicle growth.
In short, it makes your hair stronger and thicker But also, super soft and silky.
POMELO PEELS
ALTERNATIVE – GRAPEFRUIT PEELS (I use whatever citrus fruit peels i have with me and it worked just fine. But it have pomelo/grapefruit peels, stick to the original recipe)
Pomelo peels contain antioxidants that help promote hair growth. It stimulates the scalp which results in increased blood flow to the surface of the scalp.
Increased blood flow simply means ,more oxygen and nutrients reach the scalp thereby promoting hair growth.
The anti-septic, anti-allergic and anti-fungal properties of the pomelo peels treat mild dandruff and prevent scalp infections. It also soothes itchy irritated scalp. You do o=not have to worry about any kind of bacterial growth anymore.
Vitamin C helps neutralises and protects your hair against free radical damage and adds an invisible coating to your hair to prevent further damage.
The vitamins and minerals in pomelo helps repair the outer cuticle layer of the hair by sealing it properly. When the cuticles are sealed, it adds shine to your hair and leaves it frizz free.
If your are using styling products, using pomelo rice water may get rid of product build up. It is perfect for dull, dry lifeless hair.
Pomelo peels cleanses your scalp of sweat, dirt and cleans out clogged pores and thus, prevents dandruff, itching and other scalp infections.
It also prevents hair thinning.
You may not feel much difference in a single use BUT, eventually it will work and improve your hair quality.
Now it makes perfect sense as to why YAO women have strong, soft, shiny and silky hair.
What Do Yao Women Use For Their Hair?
Yao women depend on natural hair treatments for their lustrous healthy hair like, natural hair cleansers and rice water conditioner. Boiled and fermented rice water promotes hair growth and nourishes the scalp and conditions your hair too.
You don't even have to use shampoo or conditioner when using this recipe. This huangluo yao village hair serum cleanses and conditions your hair leaving it soft and frizz free.
How Long Do The Yao Women Ferment Rice Water?
Traditionally, the rice water is boiled with two other ingredients first and left to ferment for about two weeks to one month.
I start using it after 4 days or 1 week though. The rice water when fermented correctly using the Yao rice water recipe does not stink at all. 🙂 My hair smells like oranges and i absolutely love it.
How The Yao Women Use Rice Water?
Huangluo yao village hair serum is usually used by itself as they have already added hair cleansers to it while boiling the rice water. The fermented rice water act as hair conditioners smoothing and closing the cuticles. The closed hair cuticles reflect the light that falls on them making your hair look dark and shiny.
Remember not to dilute this fermented rice water.
I REPEAT, DO NOT DILUTE THE FERMENTED RICE WATER. 
Chinese village of huanglong rice water recipe does not use the internet famous rice water method where we leave the rice in the water to ferment for 48-72 hours. This method of making rice water produces highly concentrated rice water which has to be diluted before use to avoid protein overload.
I have already shared a post with my experience with Fermented Rice Water Recipe Using White & Black Rice Here.
Which Rice Does Yao Women Use?
White rice.
When you buy make sure the rice is organic and free from harmful pesticides. Basmati rice and rice that are grown in certain parts of the world like India, and Pakistan contain the least amount of pesticides and Arsenic in them.
How Long Does It Take For Rice Water To Grow Your Hair ?
You should be able to see noticeable difference in your hair length and texture in about a month's time. I am not sure about how long it would take on damaged hair though.
Within a month's time, my hair quality improved even without using a chemical shampoo or conditioner. My scalp looked healthy and moisturised rather than dry.
How Often Should You Use Rice Water?
Yao women use fermented rice water every three days.
In winters, they use it once a week.
Can We Use Essential Oils To Rice Water?
Yes, you can add tea tree oil or even Pomelo essential oil to the original rice water recipe.
How About Adding Moringa Powder, Hibiscus Powder, Ginger?
I get asked this question a lot but honestly, i have never tried modifying the recipe.
While browsing the net, i came across an article that says Fermented moringa powder has more soluble proteins. So now i am tempted to give it a try. I will update the article after trying the recipe with,
Ferment Rice water and Moringa powder with pomelo peels
Rice water and hibiscus flower with ginger and pomelo peels
In this case, i will skip using tea seed cake/powder.
When trying new ingredients, Make a small batch and try it a few times to see whether there is any changes in your hair like breakage or dryness.
i would still say, stick to the original Yao rice water recipe because it is a proven fool proof recipe for healthy hair.
How To Use Rice Water?
Shake the bottle before use as the cleansing powder always tends to settle at the bottom.
Pour the rice water over your head and hair
Wait for 20 minutes
Massage for 2 minutes
Now, Rinse with cold water.
Yao women use cold water to wash their hair even in the winters.
Some people are catch a cold after a cold water head bath. So adjust accordingly. Nothing is worth risking your health.
Yao Rice Water Recipe
Take about a cup of organic white rice.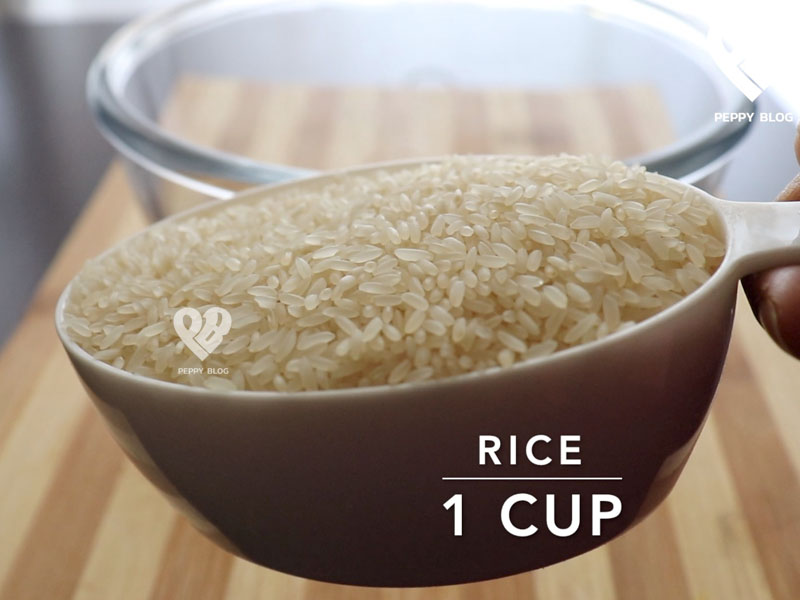 Rinse the rice to remove dirt and dust.
Throw out this water.
Add 3 cups of water. Leave it for 30 minutes
After 30 minutes, rub the rice between your palms or fingers.
Continue until the water turns Milky White. This may take about 5 minutes
Drain the rice water to a separate vessel.
Now we have the basic ingredient of Yao rice water recipe.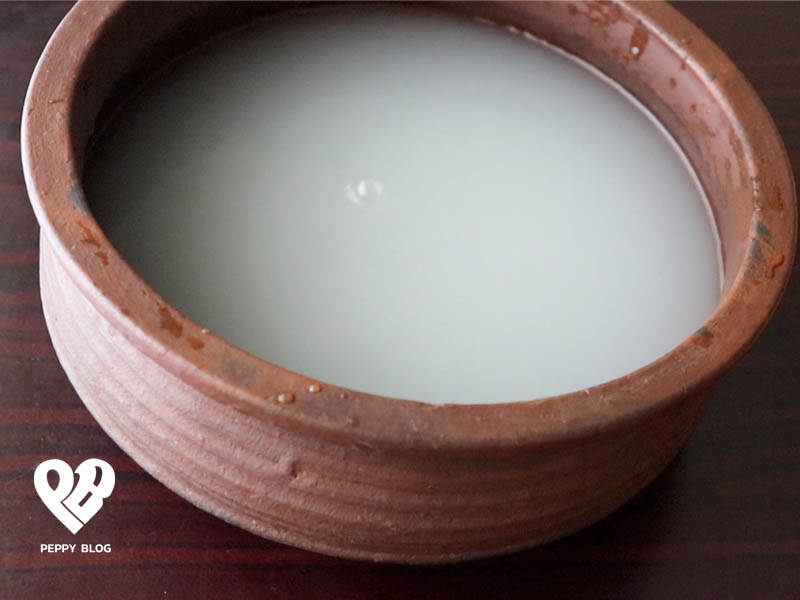 It is time to add the second ingredient. That is,
Citrus peels
Here i have used sweet lemon peels of 2 whole lemons. You can use whichever is easily available to you.
Yao women use Pomelo Fruit peels. (The closest thing to a pomelo fruit would be a Grapefruit)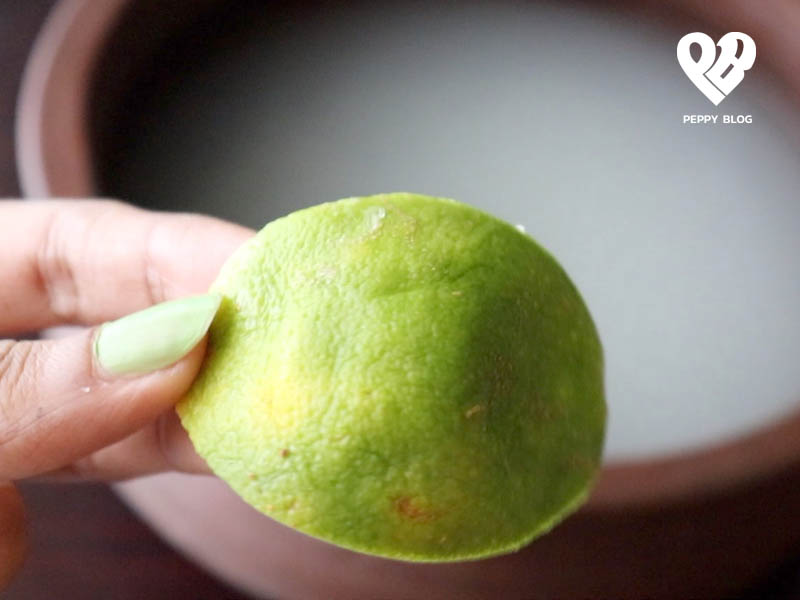 Add the 2-3 tablespoons of hair cleanser powder.
You can boil it or just add the cleansing powder after you switch off the flame. Adding it to hot water works just fine.
Yao women use Tea Seed Cake Or Tea Seed Powder.(Camellia Seeds Powder). I have mentioned alternative options below
Tea seeds powder does helps cleanse and moisturise the hair and scalp. It also promotes hair growth and combats dandruff and itching.
Tea seeds powder has anit microbial properties which keeps the scalp infections at bay. The natural oils in tea seed powder helps cleanse the hair and scalp without drying it.
It is an amazing ingredient which i am recently addicted to.
Alternative Hair Cleansers For Natural Hair
Shikakai Powder
Soap nut Powder (Reetha)- Best for colour treated/Chemical treated hair
Shikakai and Aloe Vera Powder for extremely dry hair
Shikakai and Hibiscus powder(Leaf/Flower) for extra conditioning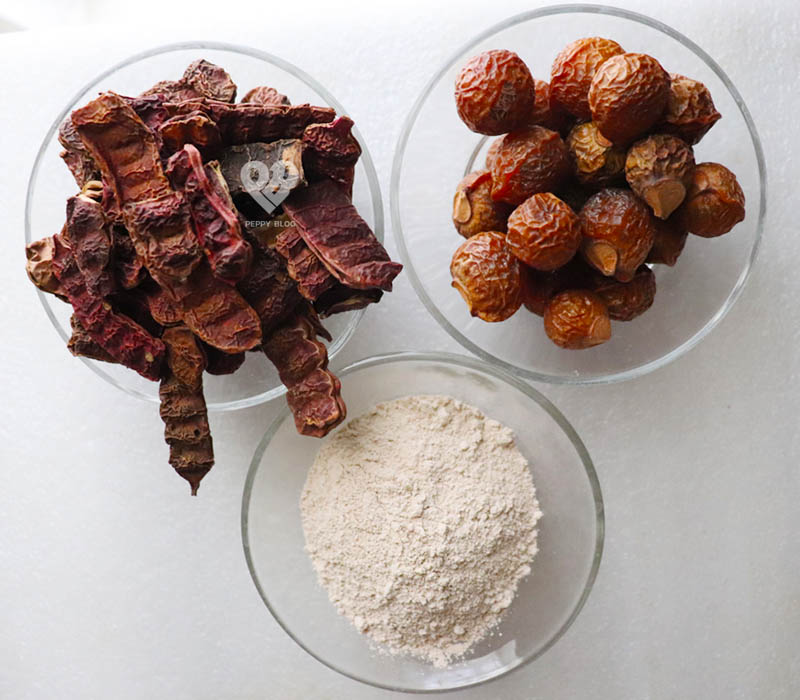 Boil For 5 Minutes
Once the mixture cools down, transfer it to a clean bottle. Try to use a  Glass bottle/jar for this purpose.
Do not use an air tight bottle as it interferes with the fermentation process
Leave it for 2 weeks to let it ferment.
Two weeks later, You have your own 2 in 1 shampoo and conditioner ready to use. 🙂
Yao rice water stays fresh up to 2 month without refrigeration. 
Yao Rice Water Hair Mask
Boil rice water and the citrus peels for 5 minutes. Do not add the cleansing powder.
Once cooled, transfer it to a glass container. Let it ferment for 2 weeks.
Pour undiluted rice water all over your hair and scalp.
Wait for one hour.
Shampoo and condition as usual.
Use once a week.
Hope that helps.
Yao Women Rice Water Recipe
Rice water – 3 cups
Citrus peels – peels of 2 citrus fruits
Tea seed powder – 2 Tablespoon
Benefits Of Fermented Rice Water
No stinky smell
Contains Vitamins, minerals, amino acids and antioxidants
All natural & no side effects
Works as a shampoo & conditioner
Cleanses the scalp and hair of dirt and oil
Moisturises the scalp and hair
Leaves hair smoother, shiny and frizz free
Soothes itching and dandruff
Prevents mild scalp infections
Promotes faster hair growth 🙂
Reduces hair loss
Strengthens hair follicles
Repairs dry hair and damaged cuticles
Adds shine and lustre
Leaves citrus fragrance on hair
How I Use Fermented Rice Water?
I follow the Yao women rice water recipe and their hair care routine.
The only difference would be, I start using the rice water after it is fermented for a week, rather than two weeks recommended by Yao women.
I pour the rice water on my hair and wait for 20-25 minutes before rinsing off with cold water.
Using it every three days is what worked for me too. I have been using this for the past six months  with a no shampoo routine.
And, i am never going back.
Note: I always rinse my hair with a Apple Cider Vinegar Rinse to finish off.
Leave it for 3 minutes and rinse off. This does make my hair soft and frizz free while also preventing mineral deposit/product build up.
Rice Water Results
My hair smells like oranges which i love. It leaves such a refreshing smell behind.
This does promote new hair growth as i can see lot of tiny fly away hairs when i air dry my hair. 🙂 Using fermented rice water does not exactly stop hair fall but reduces it to an extent.
After six months, my hair thickness has increased so it can confidently say that the rice water recipe certainly works.
I can see that my hair has become softer, blacker and shinier than before. It has less tangles too.
One thing i noticed is that when i use rice water, it cools down my hot head. This is really a big thing for me.
The rice water recipe has slowly but surely improved the quality of my hair. And i am super impressed with the results. 🙂 🙂