Eucerin Q10 Anti-Wrinkle Face Cream Review – I have been searching for a good face cream that suits my sensitive skin which is prone to mild dryness in the cold winters. I actually got this Eucerin cream for face from US
Product Details
Eucerin Q10 Anti-Wrinkle Sensitive Skin Cream is a fragrance-free, non-comedogenic anti-wrinkle cream for sensitive skin types. It's formulated with antioxidants like Vitamin E, Coenzyme Q10, and
Beta-Carotene definitely helps reduce the look of fine lines and wrinkles.
Reduces the look of fine lines and wrinkles in as little as 5 weeks
Moisturises for softer, smoother looking skin
Fragrance and alcohol free
Non-comedogenic
What Eucerin face Cream Does
In as little as 5 weeks, this formula helps reduce the look of fine lines and wrinkles.
Also enriched with antioxidants, Vitamin E, and Beta-Carotene, Q10 Anti-Wrinkle Face Cream helps protect against the damaging effects of free radicals.
Finally, It firms and moisturises for softer, smoother looking skin.
Q10 Anti-Wrinkle Face Cream can be used alone or under make-up.
In short, Eucerin Q10 Anti-Wrinkle Face Cream helps to replenish Coenzyme Q10, a naturally occurring enzyme that defends against the signs of ageing and is vital for healthy-looking skin.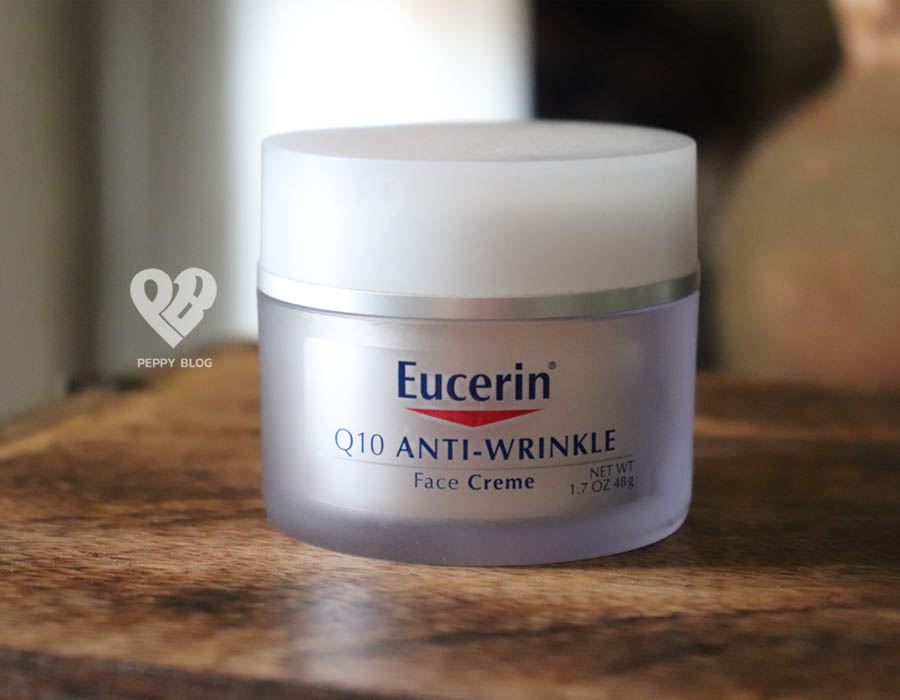 My Experience
Skin Type – Normal Sensitive
The Eucerin anti-wrinkle face cream is one of my top ranked go-to products for my sensitive skin. I strongly recommend this particular product and brand for those with sensitive skin prone to dryness.
Colour & Consistency
It is yellow in colour and quite creamy in texture just like butter. This does get absorbed quickly. It does leave a shiny finish on my skin.
It can be used both in the morning and night time skin care routine.
Fragrance
It does not have any artificial fragrance added to it. My sensitive nose did not pick up any weird smell.
Irritation/Breakouts
Even if a product has excellent ingredients in it, At the end of the day it may or may not work for your skin type.
Eucerin cream does fulfil the needs of my skin without causing any irritations neither did it cause any breakouts. So thumbs up for that. 🙂 It does soothe redness and itching though.
Hydration
It does moisturise adequately. This cream certainly helps keep the water molecules sealed all throughout the whole night. You wake up to a soft glowing skin. The effects can be easily noticed on dry patches or tight skin.
It does treat dry patches effectively.
I would not recommend this cream for day time use for normal skin type. It is just too much. I go with a couple of drops of my homemade virgin coconut oil to moisturise my skin in the morning and follow up with a sunscreen.
Finish
The finish is kind of shiny on my normal skin. My hair does stick to my face. But as i go to bed short after i do my skin care routine, i am usually not bothered by it.
The finish may be complete matte for dry skin.
Effect on Fine Lines/Wrinkles
This helps soften those tiny fine lines and blurs its appearance. I do not have wrinkles yet so i cannot comment that.
Eucerin anti-wrinkle cream can be used to prevent the appearance of fine lines rather than treat it. You may need much more potent ingredients like Retinol to get rid of those stubborn lines and wrinkles.
Pros
Suitable for normal-dry skin
Suits extremely sensitive skin
Creamy consistency
Non greasy
Gets absorbed quickly
Provides intense hydration for normal skin
Goes well under makeup (especially on dry skin)
Moisturises all throughout the night
Leaves skin soft, supple and glowing in the morning
Treats and cures dry and patchy skin
Soothes redness
No irritations/breakouts on sensitive skin
Reduces fine lines
No fragrance
Paraben free
Cons
Firstly, Availability is an issue for this one.
Secondly, It may not suit oily & acne prone skin as it contains Shea butter and Corn oil
Will I Recommend Eucerin Anti-Wrinkle Face cream?
Yes, It worked beautifully on my normal sensitive skin without causing any problems. It certainly provides sufficient hydration to my skin. Overall i am pretty happy with this product.
Rating – 4.9/5
That concludes my Eucerin Q10 Anti-Wrinkle Face Cream Review. Hope that was helpful.
Drop a comment if you have any questions.
Stay Indoors Stay safe.