Neem being anti fungal and antibacterial works great in reducing acne. All natural treatments take time but they surely show results with time. Here is a neem tulsi toner that works on acne and acne scars. This also works for your hair too.
It really works soothe itching and reduces dandruff. It is also good for boils(pimples) that appear on your scalp. It generally happens during the hot summers or when there is an increase in your body heat.
Also, you can see how store bought neem toners can be super costly like Khadi
Anti Acne Pimple Control and Pore Minimizer Face Toner with 5 Type of Tulsi, Neem, Witch Hazel
Why Make Neem Decoction?
My scalp was really itchy although i do not have dandruff. At least nothing could be seen on the scalp. I really couldn't control the itching anymore. As neem is an all rounder that works for both face and scalp, i decided to make this decoction.
Only 10% of this solution was used as toner. The rest of it was used to rinse my hair after shampooing. Some days i leave it on my hair for 20 minutes before washing it off. This really works to treat scalp infections and dandruff. 🙂
Use this two to three times a week until you get rid of the scalp infections.
You may dilute half glass of this decoction to half glass of water and use it as a toner. The concentration may be too strong for sensitive skin
I have already written all about what Neem benefits for your skin and how to use it in this post. So in this article i will be focusing on what neem does for your hair and scalp.
Benefits Of Neem For Hair And Scalp
Relieves itching and soothes eczema (Dry skin condition with itching)
Treats dandruff
Prevents scalp infections
Gets rid of lice
Conditions dry and frizzy hair
Promotes new hair growth
Better hair texture
Improves scalp health
Prevents split ends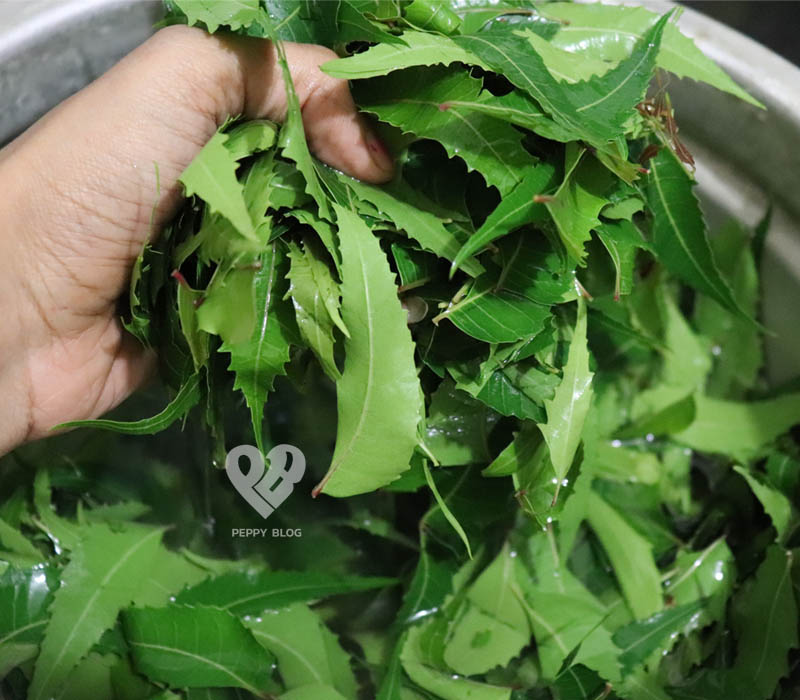 Recipe
Neem leaves
Tulsi
Green tea – 1 tea bag or 1 table spoon (optional)
Water – 1.5 litres
You may add lemon juice to this decoction right before using it for your hair rinse.
I added lemon juice before applying to my scalp and somehow the itching stopped in the first use itself. I was not expecting that at all. 🙂 I did keep it for half an hour before rinsing off. Trust me guys, it definitely works.
Wash both the tulsi (Holy basil) leaves and neem leaves thoroughly to get rid of dust and insects.
How To
Keep one and a half litres of water on the stove. Bring it to boil.
Once it starts boiling, add tulsi or holy basil leaves to it.
Wait for a minute before you add in the rest of the ingredients.
It is now time to add a bunch of neem leaves to it.
Once the water starts to boil, i switch off the flame. Some people to keep boiling the leaves but i usually do not boil it too much.
I do steam my face for a couple of minutes whenever i do this. The neem and tulsi facial steam has amazing benefits. 🙂 You do not have to do this but you can.
Add one table spoon of green tea to it. This step is completely optional.
Close it with a lid and leave it for half an hour to one hour.
Your neem tulsi toner is ready now.
After an hour, you can strain the liquid and store it.
Once it is cooled completely, you may keep it in the refrigerator for later use.
Rinse you hair with this decoction to promote hair growth and curb scalp infections.