Biosilk Moisturizing Cream Review- Ceramides and hyaluronic acid are the 2 important ingredients that help plump the skin and seal the moisture in. Both of these ingredients work well together in keeping our skin barrier healthy and youthful. You can use vitamin C+ceramides in the morning and retinol+ceramides at night for extra benefits.
PRODUCT DETAILS
Biosilk Moisturizing Cream keeps your skin smooth and healthy. It is a specially developed, non-greasy, creamy base moisturizer penetrating the skin. It moisturizes, nourishes and restructures dry skin. Its anti-inflammatory and antioxidant capabilities shield skin from the damaging effects of pollutants, free radicals and sun damage.
BENEFITS
Biosilk moisturising cream is a non-greasy formula that restores hydration so that your skin looks fresh and revitalized for a long time. This cream moisturizes and nourishes the skin and prevents dryness. It is a moisturizing cream to keep your skin healthy and smooth. Its antioxidant and anti-inflammatory properties protect skin from the harmful effects of free radicals, sun damage and pollution.
Boosts collagen and reduces fine lines and wrinkles
Calms and soothes irritated and inflamed skin
Increases skin hydration and repairs and reinforces damaged skin barrier
Strengthens and protects the skin's self-defence
PRICE
MRP ₹399 | Sale – ₹311.22
Biosilk Moisturising Cream – BUYNOW
INGREDIENTS
Oatmeal & Ceramides
MY EXPERIENCE
Skin Type – Normal Sensitive Skin
Biosilk moisturising cream comes in a tube packaging and has a medium thick creamy consistency. I always wanted to include ceramides into my antiaging skincare routine and this seemed affordable to me.
I am using a pea size of this cream as the last step of my PM skincare routine to seal everything in. It does not leave my skin oily or greasy But, I would not recommend this moisturiser as a stand alone product as it does not hydrate my skin for long.😞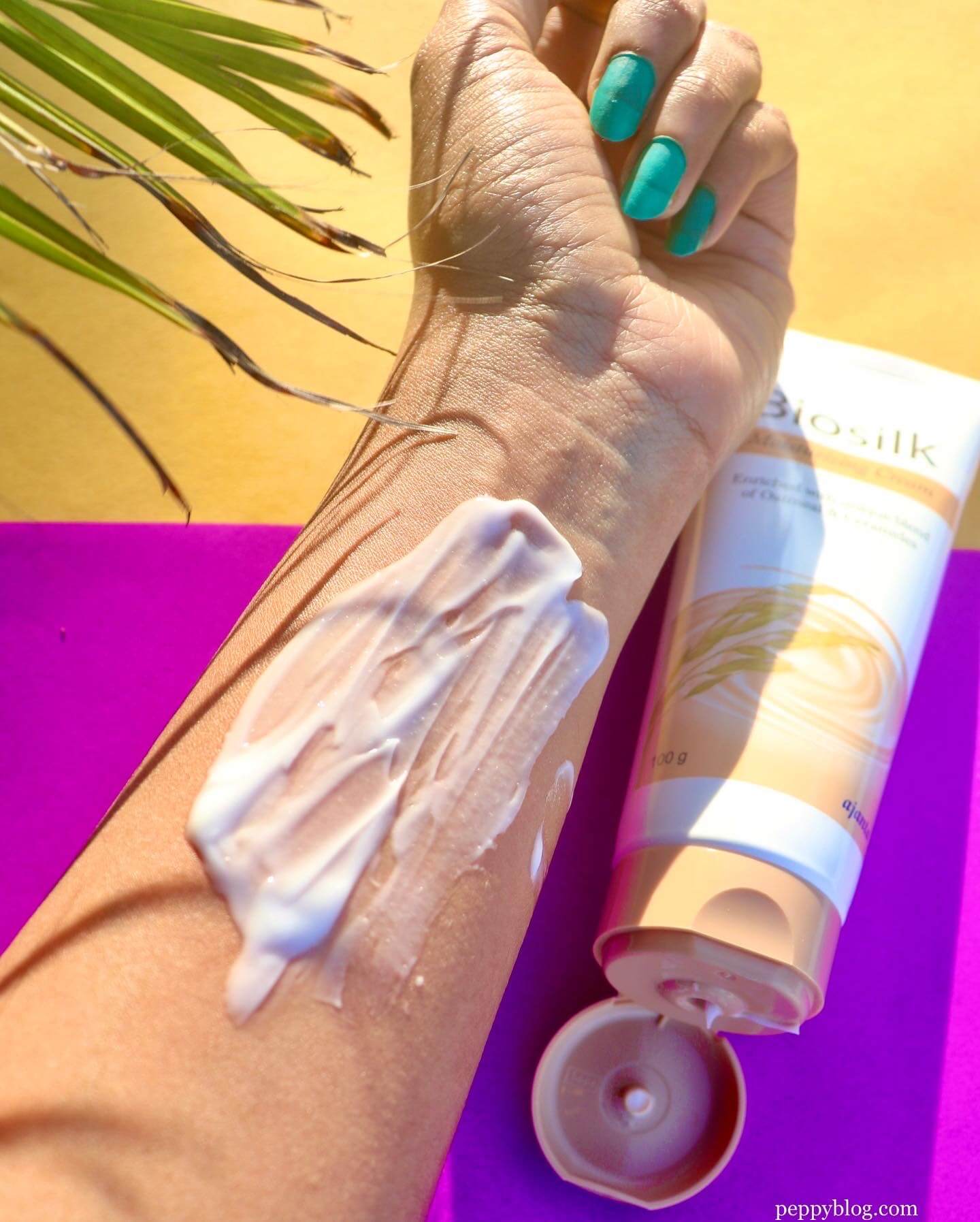 When I applied the Biosilk moisturiser by itself, my skin started to feel too matte, tight and stretchy in less than 5 minutes which is baffling considering its amazing list of skin nourishing ingredients. It just disappeared as if I never had applied anything to begin with leaving my skin feeling worser than before.
Is it fragrance free? Sadly, it is not fragrance free which I did not notice before buying. Fragrance was mentioned way higher in the ingredient list than usual that it completely skipped my attention. Although it did not irritate my sensitive skin, The scent is way too strong for my liking.
What about breakouts? My skin did not face any breakouts from using Biosilk moisturising cream. This cream is not non-comedogenic and has mild pore clogging ingredients in it.
Since I bought this, I will try to finish it. I'd rather use a drop of squalene oil as the last step to prevent moisture from escaping the surface of my skin. It is safer and works much better than this.
REPURCHASE?
Nope, This was a waste of money. It works in sealing everything in but it cannot be used alone and as far as the moisturising part is concerned, Biosilk moisturising cream fails to deliver. The scent is  overpowering too.
PROS
Convenient packaging
Affordable
Contains ceramides, vitamin E
Helps seal moisture in
Did not cause breakouts or skin irritation
Non oily and non greasy
CONS
This contains artificial fragrance.
Does not hydrate or moisturise my skin.
When used by itself, skin feels tight and stretchy.
RATING – 2/5
Well, that was my Biosilk moisturizing cream review. My first ceramide cream ended with a disappointing experience. I am hoping to find a good and affordable ceramide moisturiser in the future. Hope my experience helps you in some way. Thanks for reading guys.😇