Moringa Face Mask Recipes – Moringa leaves contain proteins, vitamins, minerals and various phyto chemicals that help prevent deficiencies and a myriad other diseases.
Remember, Intake of Moringa should be avoided by pregnant women.
Nutrients In Moringa Leaf
Moringa leaves are rich in Vitamin B1, Vitamin B2, Vitamin B3, Vitamin C, Vitamin E, Calcium, Magnesium, Phosphorus, Potassium, Copper, Iron, Sulphur, Various Phyto chemicals and amino acids. 🙂
In short, The superfood Moringa has,
25 times more IRON than leafy green spinach
More Vitamin C than oranges(7+)
10+ times more Vitamin A than carrots
More Potassium than bananas(15+)
15+ times more calcium than milk
More protein than Curd/Yogurt (8+)
Just WoW !!!
Health Benefits
Anti-microbial and anti-inflammatory
Prevents and cures both Type 1 and Type 2 diabetes
It has anti-cancer properties
Boosts immunity
Reduces heart burn, acidity and stomach ulcer
Lowers blood pressure and cholesterol levels
As moringa has 28gm of iron in it, it is perfect for those with iron deficiencies.
Are All Moringa Powders Equally Good?
No, not really.
In the hot summers and rainy season, You can find that the moringa leaves are abundant in Vitamin A when compared to other vitamins in it.
While, in winter season, the leaves become rich in Iron and vitamin C.
In simple words, depending upon when you are harvesting it, the nutrient content also changes.
Moringa Benefits For Skin
As you all know, Vitamin C helps improve the  elasticity of the skin as well as boost collagen production.
Thus, it helps delay the signs of ageing like fine lines and prevents sagging of the skin which means,  younger looking skin.
The antioxidants in moringa powder work to neutralise free radical damage caused by the sun/environmental pollution.
This in turn prevents premature ageing and keeps our skin healthy for a long time.
Is Moringa Suitable For Oily Skin?
Being anti-inflammatory and antimicrobial, moringa helps treat and prevent skin problems.
It also controls excess sebum production and hence, prevents clogged pores.
Moringa For Dry/Sensitive skin?
As i mentioned above, moringa has anti-inflammatory properties which helps soothe irritated and dry skin conditions related to Psoriasis, and Eczema.
When combined with the right ingredients, moringa face mask can improve skin texture by encouraging wound healing and cell repair.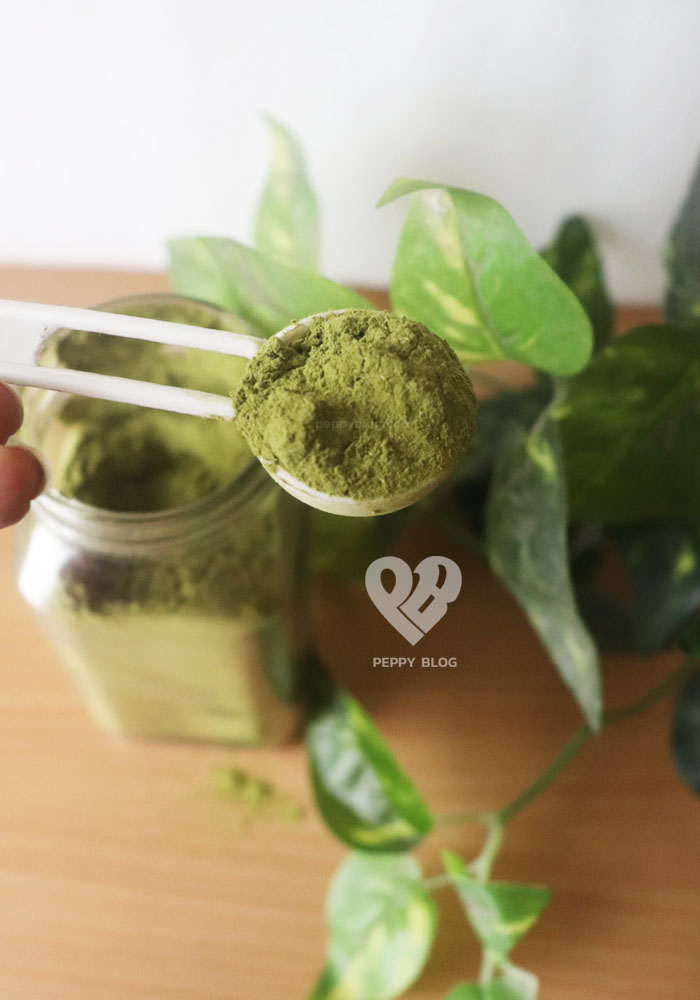 Moringa And Aloe Vera Gel Face Mask
Suitable for oily skin.
Moringa Powder – 1 Tablespoon
Clay – 2 Teaspoon (Bentonite, Multani mitti or Kaolin clay)
Honey – 1 Teaspoon
Aloe Vera Gel  – As needed to make a paste
This face pack is cleans out your pores of excess oil, dirt and bacteria.
The ingredients does prevent new acne from popping up.
Aloe Vera gel and honey helps soothe, nourish and moisturise the skin.
Use this face mask 2 times a week for best results.
Moringa And Turmeric Face Mask
Face mask for acne and pimples.
Moringa Powder – 1 Tablespoon
Turmeric Powder – 1/2 teaspoon
Raw Honey – 1 Teaspoon
Rose Water/Lemon juice – As needed
Moringa and turmeric face mask helps treat pimples and keep them at bay.
You can use this as a daily spot treatment or use along with the above face mask on alternate days for best results.
Use 3-4 times a week.
Moisturise afterwards and use sunscreen as lemon juice may leave your skin light sensitive.
Another simple recipe for acne prone skin would be,
Moringa Powder – 1 Tablespoon
Raw Honey – 1 Teaspoon
Tea Tree Oil – 2 Drops
Another moringa face mask recipe suitable for spot treatment.
This face pack can be used daily on the pimples until they dry out. You may add aloe vera gel if you desire.
Hydrating And Soothing Moringa Face Mask
Face Mask For Sensitive Skin
Moringa Powder – 1 Tablespoon
Oat Meal – 2 Teaspoon
Rose water – As needed
Oat meal is The Perfect ingredient for sensitive skin. It is really soothing on the skin and helps calm skin irritations and dry skin conditions like scaly patches, redness and itching.
You can use this face mask 3-4 times a week.
For extra nourishment, substitute rose water with yogurt or milk  whichever suits your skin best.
Moringa And Yogurt Face Mask
Face Mask For Dry Skin And Mature Skin
Moringa powder – 1 Tablespoon
Yogurt – 2 Tablespoons
Raw Honey – 1 Teaspoon
Mashed Banana/Avocado – 2 Tablespoons (Optional)
This is an antioxidant packed face mask that deeply nourishes dull lifeless skin.
It also provides anti-ageing benefits and keeps your skin youthful and glowing.
Use this face mask 3 times a week for best results.
You can find More DIY Recipes Here