14 Best Body Lotion For Dry Skin – Hey there, Hope you guys checked out my earlier post on the best face moisturisers for dry skin. Well, Today we are going to look at some of the best body lotions that is perfect for the cold and dry winter season. We all need to moisturise our skin to keep them soft, smooth and supple but dry skin needs extra attention. These body lotions i have mentioned below are very moisturising, gets absorbed easily and at the same time they are non greasy and non sticky.
Body lotions for dry skin generally contain ingredients like colloidal oatmeal, shea butter, glycerine, ceramides and hyaluronic acid that help pull and seal the water molecules without letting them escape. This is what ensures that your skin remain moisturised and nourished for a long time.
Below are the 14 best body lotions that are suitable for dry-very dry skin.
MINIMALIST 5% NIACINAMIDE BODY LOTION
PRICE – ₹ 299 for 180g
Minimalist 5% Niacinamide Body Lotion is an everyday body lotion for all skin types. It is infused with antioxidant niacinamide (vitamin B), shea butter, glycerine and betaine which helps in hydrating and nourishing the skin and reduces sun damage.
Formulated with niacinamide, glycerine and shea butter. Hydrates the skin and lock in moisture in the epidermal layer of the skin. Anti- inflammatory and anti-microbial benefits. This product is fragrance free, sulphate free, dye free, essential oil free, paraben free and silicone free.
LA SHIELD INTENSE BODY LOTION PROBIOTIC MOISTURISER
PRICE – ₹299 for 100ml | ₹194
The La Shield Intense Body Lotion Probiotic Moisturizer promotes the growth of a healthy skin microbiome and fortifies the skin's natural moisture barrier, which locks moisture for 72 hrs. Its natural hydrating formula improves skin's elasticity, resulting in rejuvenated skin and youthful radiance.
La Shield's Probiotic Moisturizer balances skin's natural flora, maintains skin's pH level, and repairs UV skin damage. This ensures a silky smooth feel and also keeps the skin soft and supple. Be it harsh winters or daily urban stressors, La Shield Intense Body Lotion is the first step towards healthy skin regime.
NIVEA BODY LOTION FOR VERY DRY SKIN
PRICE – 600ML FOR 625RS | Sale – 460RS
This rich and creamy formula with 2 times more almond oil deeply moisturizes and softens your dry skin. The lotion gives you deep moisturization for up to 48 hours after a single application. Almond oil and vitamin E nourish & repair the skin from deep within. Apply daily for intensive moisture care & to reduce roughness of dry skin.
AVEENO DAILY MOISTURISING LOTION FOR DRY SKIN
PRICE – ₹1000 for 354ml | ₹800
Proven to improve the health of dry skin in 1 day, with significant improvement in 2 weeks. Formulated with Active Naturals Colloidal Oatmeal and rich emollients, this nourishing lotion helps prevent and protect dry skin for a full 24 hours. As a skin protectant active ingredient, oatmeal can help restore skin's normal pH and aid in the maintenance of skin's moisture barrier to help prevent and protect dry skin.
Aveeno Daily Moisturizing lotion leaves your skin feeling soft, smooth and naturally healthy looking and is gentle enough for everyday use. It's also fragrance free, non greasy and noncomedogenic.
VASELINE INTENSIVE CARE DEEP MOISTURE NOURISHING BODY LOTION
PRICE – ₹375.00 FOR 400ML | SALE – ₹225.00
It penetrates 5 layers deep into your skin to give you long lasting moisturisation, even during harsh winters. Vaseline Deep Moisture Body Lotion is made up of a unique double-action formula containing Glycerine which helps to replenish your skin's lost moisture, and Vaseline Jelly which is known to lock the moisture in your skin.
The lotion is fast absorbing for a non-greasy feel and moisturises your dry skin from the very first application. It is a daily use body lotion best for dry, rough skin and is suitable for all skin types. Vaseline Deep Moisture Body Lotion gives you deep moisturisation without making your skin feel sticky, and gives you healthy soft skin all day long.
PARACHUTE ADVANSED DEEP NOURISH BODY LOTION
PRICE – ₹310.00 FOR 400ML | ₹167.00
Enriched with goodness of Pure Coconut Milk & Natural moisturizers, It provides deep nourishment and intensive moisturization to skin even in the harshest weather. It penetrates 10 layers deep into the skin to restore lost moisture and repair dry and damaged skin.
This quick absorbing body lotion has a light, non greasy texture that conditions and softens your skin without leaving behind any residue. Its mild fragrance will make you feel refreshed and rejuvenated. Coconut Milk is a miracle ingredient known for its nutritive and transformative effect on skin. It moisturizes and soothes skin from within, restoring lost moisture and helps in repair of dry and irritated skin.
Free from silicones, sulphates, phthalates or any artificial colours
HIMALAYA COCOA BUTTER INTENSIVE BODY LOTION
PRICE – 280RS FOR 400ML | 153rs on sale
The Himalaya body lotion penetrates deeply into the skin to nourish it and instantly moisturises it, leaving the skin looking healthier than ever before. It hydrates the skin and keeps it soft and smooth all through the day. It contains cocoa butter, a natural moisturiser and deep-nourishing emollient that effectively softens the skin and heals chafing, giving you silky smooth skin.
Cocoa butter also contains antioxidants to repair the damaged, lifeless skin. Olive Oil and vitamin E present in this body lotion keep dryness at bay. Olive oil also has antimicrobial properties to heal skin irritations, rashes and imperfections.
The Himalaya Herbals Intensive Moisturizing Body Lotion also has Grapeseed Oil, a natural astringent that tightens the skin to make it wrinkle-free and helps even the skin tone. The linoleic acid in Grapeseed is one of the essential fatty acids that nourish skin the natural way. Rich in vitamin E, the wheatgerm oil in this moisturising body lotion improves skin elasticity.
VASELINE DERMA CARE ADVANCED REPAIR BODY LOTION
PRICE – 375RS FOR 400ML | 300RS on sale
This lotion has the ability to seal in water, to give your skin a smoother feel and appearance. When your skin is very dry, it can tighten and develop micro-cracks in the upper layer, leading to irritation and itchiness.
Vaseline Advanced Repair lotion relieve dryness from the first application with faster moisturization for visibly reduced dryness within 24 hours. It contains glycerine and petroleum jelly, which are great ingredients for naturally dry skin. Glycerine and micro-droplets of petroleum jelly work together to lock in moisture and provide intensive moisturization to help heal dry skin and repair the skin's natural barriers.
JOY HONEY & ALMOND ADVANCED NOURISHING BODY LOTION
PRICE – 350RS FOR 500ML | 210 RS on sale
The Joy body lotion is a moisturiser which is effective for dry skin, providing deep nourishment and moisturisation. Joy Honey & Almonds Advanced Nourishing Body Lotion has a perfect balance of Almond Oil and Honey along with Vitamin E to provide deep nourishment and moisturisation to keep your skin soft, smooth, healthy and glowing naturally. The Joy skin care product also reduces fine lines and wrinkles. It helps improve firmness and elasticity of the skin, skin glows with health and vitality.
BIOTIQUE CREAMY COCONUT DEEP NOURISH BODY LOTION
PRICE – 200RS FOR 180ML | 140rs on sale
Enriched with creamy Coconut, this nutritious Body Lotion is a 'Miracle Liquid' to deeply nourish, soothe and heal extra dry skin. Also Contains potent botanical extracts of Basil Leaves, Almond Oil & Olive Oil. Heals, soothes and repairs the skin. Leaves the skin smooth, supple and nourished.
DERMAFIQUE INTENSIVE RESTORE BODY LOTION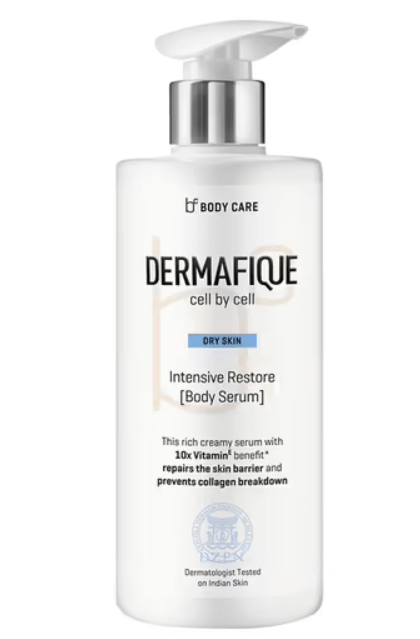 PRICE – 449rs for 300ML | 283rs on sale
The Dermafique Intensive Restore Body Serum is enriched with 10x Vitamin E to give parched skin a surge of moisture. This rich and creamy body serum repairs the skin's barrier to prevent moisture loss and prevents collagen breakdown to give you supple, glowing skin. Vitamin E provides locks in moisture and thus provides long-lasting hydration for the skin. It also heals and strengthens the skin's barrier to prevent moisture from escaping.
DERMA B DAILY MOISTURE BODY LOTION
PRICE – 1700RS FOR 400ML | 1200rs on sale
This body lotion not only absorbs softly & in gentle, but also keeps skin's moisture for a long time. Multi layer of panthenol, shea butter, and grape seed oil makes the lotion be absorbed promptly and keeps water molecules sealed in. Olive & Allantoin with MLE Moisturizing Scientific Formula soothe and protect your sensitive and dry skin.
Clinically tested for Lasting Moisture for 100 Hours.
AQUASOFT MOISTURISING LOTION
PRICE – 422RS for 200ML
Aquasoft body lotion is a highly effective moisturizing lotion that helps to soothe and nourish dehydrate skin. This body lotion provides extra Moisturiser for skin that feels soft and silky, combats free radical damage, prevents premature ageing of skin, improves health and vitality of skin, prevents irritation and skin dryness.
VENUSIA MAX INTENSIVE MOISTURISING LOTION
PRICE – 600rs FOR 300ml | 496RS on sale
The unique combination of butters hydrates, softens and heals dry skin of hands, feet, elbow, knees and other body parts that require intensive moisturizing.
Venusia Max Intensive Moisturizing Cream is clinically proven to keep skin hydrated for up to 12 hours. It locks the moisture and hydration, keeping your skin glowing for long and improves skin barrier function to help protect your skin from dirt, dust, pollution, and loss of hydration.
Venusia body lotion contains Glycerine, Shea Butter, Aloe Butter, Mango Butter, and Cocoa Butter. All these ingredients actively and effectively work towards repairing, smoothening it, moisture retention, and strengthening the skin barrier.